Infrared FLIR Camera of T600 Series
FLIR thermal imaging cameras are ideal for the use in multicopter systems. Despite the weight, it is possible to configure the drones so that the take-off weight is less than 5 kg, which will provide for the sufficiency of the general permission for UAV. It is possible to integrate FLIR infrared camera into the communication for the flight control. Thus, a radiometric JPEG with abnormalities in the temperature pattern can be specifically targeted from the ground. Simply focus, trigger and save. An advantage of the IR camera is the switch to manual use. FLIR thermal imaging cameras with a resolution of 640 x 480 pixels are ideal for thermal detection in the field of electrical and mechanical repair and building diagnostic survey. More information is provided in the User Report of FLIR company. We will be happy to advise and provide you with a nonbinding proposal.
Thermographic Images of PV Systems Using FLIR T620

Technical details of the thermal imaging camera of FLIR T 600 series



Optical resolution 640 x 480 Pixel

Thermal sensitivity depending on model 0.035 mK

MSX - Multi Spectral Dynamic Imaging for more details

Combined storage of MSX®, thermal imaging and PIP (picture in picture)

Built-in GPS and compass

Digital camera of 5 megapixels for a reference image

Manual focus on the lens, including a quick one shot autofocus

Continuous autofocus only in model T 640

Surface coordinate measurement using laser pointer

Interfaces: Digital Video Interface, USB and a charging port to charge the battery

MPEG-4 video recording with/without radiometric data

Thermal fusion - combines digital image with IR image

Picture in Picture (PIP)

Sketched, written and spoken comments

Digital zoom function

Meters Link ™ and WIFI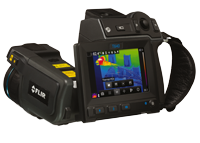 Since 2012, we have been using FLIR T620 in a multicopter. Upon request, FLIR adapted the infrared camera. A special cable, developed by us, allows for the focusing and initiation of the infrared images with control for the flying robots. Since we are talking here about a technical application, the roll axis on the camera mount (gimbal) was omitted. Since only the pitch axis is used, the weight is spared accordingly. On the basis of the microcopter concept it is possible to maintain the weight under 5 kg, which is, according to the regulations in Germany, requires only a general permission for UAV. Our conclusion: the camera has proven itself in every day work.
Comparies of Camera Modell of FLIR T600-Series
| | | |
| --- | --- | --- |
| FLIR T600 | FLIR T620 | FLIR T640 |
| Screen resolution 480×360 Pixel | Screen resolution 640×480 Pixel | Screen resolution 640×480 Pixel |
| Temperature range -40°C to 650°C | Temperature range -40°C to 650°C | Temperature range -40°C to 2000°C |
| Thermal sensitivity <0.04°C | Thermal sensitivity <0.04°C | Thermal sensitivity <0.035°C |
| Fixed instrument settings: 6, pre-set and 2 customer pre-set settings | Fixed instrument settings: 6, pre-set and 2 customer pre-set settings | Fixed instrument settings: 6, pre-set and 2 customer pre-set settings |
| manual and automatic focus | manual and automatic focus | manual, automatic and continuous focus |
| MSX® | MSX® | MSX® |
| Multispectral Image Storage | Multispectral Image Storage | Multispectral Image Storage |
| – | integrated GPS | integrated GPS |
| – | – | horizontal or vertical live line profile on a display |
| – | – | Viewfinder |
| Radiometric IR video streaming via USB | Radiometric IR video streaming via USB | Radiometric IR video streaming via USB |
| 1-4x continuous digital zoom | 1-4x continuous digital zoom | 1-8x continuous digital zoom |